First Kiss at a Spooky Soiree
PC/Mac update+New Translations!
---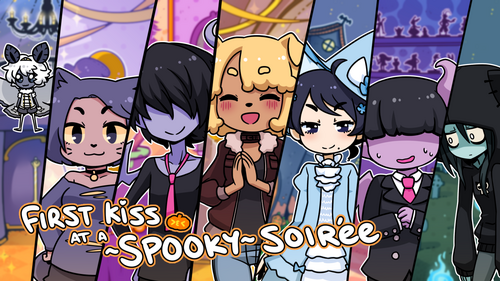 last halloween i added 3 new endings, and now... finally...
the build here on itchio matches the mobile version!! sorry that took so long!!!!!
the main reason it was delayed was because i wanted the existing translations to be updated so that new players didn't randomly stumble into a new route and see that it's only in english...
so the game is now FULLY translated into spanish, french, and german!
(thanks to fantasmaazul, Hugo "Dwimepon" Lucas, and princexx!)
we got some all-new translations too!
russian and portuguese, brought to you by Project Gardares and Fah Braccini!
the only other notable change with this build is that the ending gallery was moved from the title screen to the ending list (where you can click to view it fullscreen)... wait omg i forgot the old build had my original font!! that changed too! that's a major change!!! the UI is better now in general! (i'm embarrassed that i left the old one up for so long! i'm sorry again!!)
that's all for now. thanks for reading!
Files
Spooky Soiree (windows+linux)
61 MB
Feb 11, 2020
Spooky Soiree (mac)
44 MB
Feb 11, 2020
Get First Kiss at a Spooky Soiree